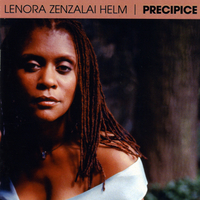 LENORA ZENZALAI HELM, vocal musician, composer, lyricist, arranger, teaching artist, former U.S. Jazz Ambassador (1998-99) and MacDowell Colony Composer Fellow is a native of Chicago, Illinois. She was the first African-American woman to graduate from Berklee College of Music with a B. M. in Film Music Scoring/Voice has studied Indian classical voice at the Jazz India Vocal Institute in Bombay, India. Helm is a subject of biographical record for the 2005 through 2008 editions of Who's Who in America and 2008 through 2006 editions of Who's Who in the World. A teaching artist for the last two decades for arts organizations including Carnegie Hall, Brooklyn Philharmonic, Schomburg Center's Junior Scholar's Program and Young Audiences New York, since 2005, Helm serves as adjunct lecturer in Jazz Studies, and Voice Departments, teaching voice and ensemble, at North Carolina Central University in Durham, North Carolina commuting weekly from her home in New York City. At NCCU, she co-directs their highly acclaimed Vocal Jazz Ensemble.
She is the Artistic Director and cofounder of the nonprofit youth music program HARMONY Program Inc., which simultaneously provides New York City underserved youth ages 9 – 13, with an instrument and weekly beginning music instruction, while training college music students as teachers. Helm and cofounder Anne Fitzgibbon were named "New Yorkers of the Week" for their work with HARMONY. Helm wrote the curriculum for the nine instruments taught by Harmony Program's twenty instructors, as they serve an average of 100 children per week. Additionally, she developed a professional development curriculum for Harmony Program Inc.'s student-instructors, winning substantial grant funding from her Alma Mata, Berklee College of Music's alumni grant program to support Harmony Program Inc.'s ongoing professional development curriculum. Visit them at www.harmonyprogram.org.
Helm was a vocal jazz instructor at Long Island High School for the Performing Arts (formerly Nassau BOCES Cultural Arts Performing Arts H.S.) in Syosset, Long Island, NY, where she was awarded a New York Foundation of the Arts Artist in the School Community grant to implement a multidiscipline residency.
Lenora is in the midst of writing her first arts education book, a career book for entry level teaching artists entitled Arts From the Heart: How to Help Others and Make Money with your Talent. This exciting venture was borne of her well received workshops, 'How to be a Teaching Artist", given in many colleges and universities, as well as music industry conferences and festivals. Helm has taught many classroom teachers in various workshops and residencies how to infuse their classrooms curriculums with music based learning, and mentored many new teaching artists in recent years. Teaching artists for whom she has taught or mentored have gone on to work at prestigious arts education organizations including Jazz at Lincoln Center, Harlem Stage (formerly Aaron Davis Hall), Young Audiences New York, Arts Connection and New York City Board of Education. Her exemplary teaching artist curriculums and work samples can be found on Young Audiences´ national website www.arts4learning.org . Look for her new book in 2009.
Helm's work as a leading vocal musician earned her the accolade "…the voice of her generation..." from Jazziz Magazine. She just completed her fifth solo recording entitled, The Butterfly Chronicles, produced by renowned saxophonist Branford Marsalis due for release in 2008. Previous solo recordings are Awakenings (1997, Baoule Music), Spirit Child (1999, J Curve Records) Precipice (2002 Baoule Music) and Voice Paintings (2003 MidLantic Records), touted by Christopher Loudon of JazzTimes magazine as "….a multi-hued masterpiece". ("Precipice" and "Voice Paintings" reached Top 20 on JazzWeek radio charts, JazzWeek.com top 100 jazz CDs.)
Helm's earned her traveling and performing stripes on the road with many R&B, Pop and Jazz artists including Freddie Jackson, Michael Franks and South American pop star, Emmanuel. She is a member of the R&B vocal group SEPIA, with founder Marlon Saunders, Arif St. Michael and Rosa Russ. SEPIA's acclaimed international release Absence of Pain, won critical acclaim from their only release in the late 1990s, and is enjoying resurgence as an underground neo-soul hit on many internet and local radio stations in the United States, London and Europe. Sought after for their dynamic and unique group sound SEPIA can be heard on the recordings of Japan's Jiro Yoshida, French group, Sixun and many others. She cut her teeth as an in-demand vocalist in New York City on numerous jingle recording sessions and as a session singer and background vocalist on many recordings of all styles, and her voice is heard on a number of radio, television advertisements and commercials.
Since 1987, Ms. Helm leads her own group, The Zenzalai Project, playing prestigious international festivals and concert venues and winning the Manhattan Community Arts Fund Award for their excellence as an ensemble. Highlights of their performances include such renowned jazz venues and festivals as Dizzy's Club Coca-Cola at Jazz at Lincoln Center in NYC, The Kennedy Center in Washington, DC, The Clifford Brown Jazz Festival, Detroit International Festival, JVC Jazz Festival, New York; Schomburg Women's Jazz Festivals; Mellon Jazz Festival, Copenhagen Jazz Festival, Jazzathon in Cape Town, South Africa. Stretching her vocal repertoire beyond Jazz, R&B, and Pop, Helm won, by audition, key roles as a principal performer with the Aquarius Opera Workshop performing several seasons in New York City and Crittenden Opera Studio in Washington DC under the direction of Richard Crittenden. She continues to study voice faithfully with her teacher Kenneth Kamal Scott and coach, Gerry Brown, both of New York City.
Highlights of other vocal achievements include her recorded and live vocal performances with Dance Theatre of Harlem's tour of "St. Louis Woman: A Blues Ballet" as well as her voice and lyrics appearing on pianist Andrew Hill's European Jazzpar live recording entitled: The Day The World Stood Still: The Andrew Hill Jazzpar Octet + 1". Visible on the discographies of many noted musicians, Lenora can be heard on recordings of saxophonist Antonio Hart and pianist Donald Brown. Watch for her as the featured vocalist on the 2008 recording of pianist Donald Brown.
Composition awards include Helm being recently awarded the 2007 Encore Award from Chamber Music
America, to present her composition commissioned in 2005, the jazz suite, Journeywoman: A Work in Progress. The creation of Journeywoman…was a result of being selected as a recipient of the prestigious 2004-5 Doris Duke Jazz Ensembles Award for jazz composers, administered by Chamber Music America and funded by the Doris Duke Charitable foundation. Other organizations recognizing her work as a composer include Meet the Composer and a coveted Composer Fellowship from the MacDowell Colony, the oldest artist's colony in the United States.
As a film music composer, recent film music credits include Ms. Helm's work featured in the film After Life by writer/director Lana Garland and featuring actress Tamara Tunie (of hit television series' Law & Order and 24). After Life was presented in 2007 at the Arizona Black Film Festival and the Village D Cinema festival in Lisbon, Portugal. As a lyricist, she has collaborated with Wayne Shorter, Andrew Hill and Branford Marsalis.
Helm serves on the board of NYC Arts in Education Roundtable, is a past president and board member of International Women in Jazz and served as a member of the Grammy Foundation's Grammy in the Schools committee. Her many professional affiliations include being a SESAC writer/publisher, ASCAP writer/publisher, and the artists unions SAG (Screen Actors Guild) and AFTRA (American Federation of Television and Recording Artists) member.